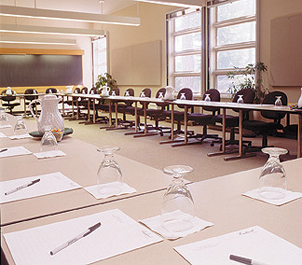 The staff and management of your company have some important issues to discuss, and you are considering offsite corporate meeting space to go over these issues in a private and secluded environment. You are contemplating the pros and cons of this move- you might be thinking about these questions:
The advantages of an offsite meeting space for your business or nonprofit group
There are several advantages to holding meetings offsite. First of all, it makes your managers and other employees feel special that you are spending the time, expense and effort to hold a special meeting just for them in a unique and interesting location. This will improve the focus of all who attend because there won't be constant interruptions from other colleagues and ringing phones. Privacy may also be an important issue – sensitive issues are more easily contained in an offsite meeting space.
When working together as a team for brainstorming, people from all levels of responsibility are more likely to feel less intimidated by their managers or bosses if the right environment puts them on equal footing.
Positive meeting space amenities
Inquire as to what is included with the meeting room rental. Often there are many extras that are included but sometimes you as the contact person must inquire as to their availability. Here at Endicott House, we have a long list of extras, some included and many we can put together for the asking. We can easily provide internet access, audio-visual setups, break refreshments and much more.
Convenience
When booking your meeting room, there are many points to consider. Where is the parking? How accessible is the room for older or disabled employees? How about noise level and privacy? Are catering services available? How flexible is the staff when you need something last minute? You'll find a mixed bag in hotels and large conference centers when it comes to the resourcefulness of the facility and staff; our people here at Endicott House in Dedham is particularly good at accommodating our guests' requests.
Group dynamics
Consider the types of personalities that will make up your group. Will they work well together or bring about conflict and disagreements? That may be OK and even necessary, just plan ahead and anticipate what the meeting leadership must do to get a good result out of any potential conflict.
Future use
Before you complete your meeting or seminar within this corporate meeting space, evaluate just how effective and productive your time spent there was. Were the outcomes what you anticipated? Did you choose the right mix of participants? Did you accomplish what you set out to do? And most importantly, was the facility a good fit for your retreat or meeting sessions? If your outcome was exceptional, book the space for next time.
Comfort and service
As you use this meeting room and the larger facility, be sure to take notes on the ambiance and advantages of the space. What was the general comfort level of the room as a whole – the seating, lighting, and general appearance? Were you happy with the services provided? Was the staff prompt and polite? What kind of response did you receive regarding issues and small complaints? And to changes and additions? Did you receive all of the services that you requested?
You may even wish to pass out a survey to the departing attendees to determine how they felt about the meeting room and the meeting or seminar as a whole. This will give you valuable feedback which you can review before your next off-site meeting.
When selecting meeting facilities in and around the Boston area, all of these points should be considered. We think you'll find that among the conference centers and meeting room facilities in the area, MIT's Endicott House is tough to beat for a beautiful, interruption-free zone where good things can happen for your organization.

Find out more about Endicott House's meeting facilities and services