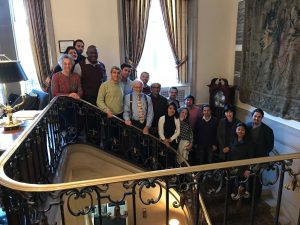 Paying for a company retreat may seem like a major drain on your budget.  Or maybe it just seems like a waste of money better spent elsewhere. If this is your train of thought, you may not understand the true benefit of a company retreat.  There's more than just paying for some food and a great new company picture.
Fees for corporate retreats typically pay for the deliverables of the venue, food and other physical things that you take away from the venue. You may have more available to you than you think, though. Check if you have unused services such as transportation or discounts at local hotels. paying up for these few things could seem like a lot at face value, but what you are really getting for your money is much more than just space and some set-up time.
MIT Endicott House offers a variety of all-inclusive packages that cut costs and save time for planning the details — from half-day to full-day, luncheons, breakfasts, indoor amphitheatre, outdoor recreational activities and more.
For your money, you receive a lot more than just your venue and services.  A great retreat offers long-term benefits that last well beyond the final speaker.
Better Teams
Teamwork is essential for any company.  But building a great team takes a lot of work and,  especially, willingness from your employees. Providing a great retreat is a perfect time to build up your team.  With great activities and purposeful goals, a fun retreat can help build trust and create a high level of camaraderie.
If you are looking for great team building activities for any kind of company, check out our team building activities that are easy to add to any retreat or corporate event.
Boosted Morale
Everyone loves to have fun out of the office.  By giving your employees a chance to blow off steam, you can increase office happiness and release some of the stress that everyday work can bring.  Even if your retreat is simple, such as a potluck picnic, the option to get out of the office and connect with your coworkers can be a major boost in any company attitude.
Great PR Opportunities
Did you know you can get public relations attention from your company retreat?  Sending out a press release with a few fun pictures can help draw attention to your company.  Clients and customers will be happy to know the people they are working with have some fun and enjoy their work.  Potential employees will love that work is more than just sitting at a desk at your company. Take advantage of your retreat by letting the community know how much fun you had.
Employee Benefits
With company culture becoming more important for current and potential employees, having a great company retreat can give you a jump on your competition.  Advertising a retreat as a treat and reward for your employees can bring you better, more qualified employees. By spending on a retreat, you can reap the rewards that come with better, happier employees.
Better Culture
For current employees, company culture can make or break a career.  Loyalty to companies has been steadily declining for decades and adding a great company culture can help you retain your best employees.  Retreats are only a small part of company culture, but it can help drive your culture in the right direction.  Fun and personable retreats can help make your company more fun and personable.
If you are looking for a great retreat that gives you all these benefits and more, contact The MIT Endicott House.  We offer plenty of packages, spaces and activities that can help you get the most out of your budget.  Remember, it's about more than the venue and lunch, it's about making your employees work better and happier every day of the year.
Thinking about a getaway for your group, department, or entire staff? Find out more on our Boston area business retreats page.
BOSTON'S SMARTEST
DESTINATION
Download our brochure and learn how Endicott House can fulfill your unique needs.