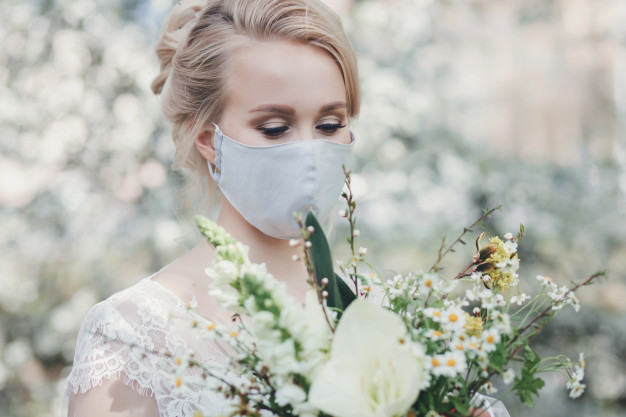 The COVID-19 epidemic changed everything for people around the world. Workplaces and schools closed. Restaurants shifted to a take-out model. Most importantly, social distancing measures went into effect. This meant large gatherings like church services, graduations and weddings were postponed indefinitely. This has created significant stress for people planning a wedding during COVID. However, it's important to remember that this disruption is just temporary.
Planning a wedding during COVID hasn't been easy. Anyone who scheduled a wedding in the spring or summer of 2020 has had to take some new circumstances into account. It's estimated that travel won't be back to normal until the late summer or autumn of 2020, if then. Many airlines have cut back on the number of flights they are offering. Even if the schedules go back to normal, there will be new precautions in effect. People with pre-existing conditions will need to be careful about travel. Mask-wearing on transit will likely be required by some municipalities and airlines.
When the guests have arrived, there will be other hurdles. For example, there are also local health department regulations to be taken into account. Towns and cities are opening up slowly. Currently, some places are allowing civil marriages to take place via services like Zoom. Others are allowing small gatherings of ten people or less for wedding services. As cities re-open, they will still be trying to limit the number of people gathered in one place. Some municipalities will be limiting events like weddings to 50 or fewer people. This can be a tough pill to swallow for people who were planning weddings of 200 people. However, it's important to try and flatten the curve.
For weddings that go forward as scheduled, it's important to take some additional precautions. Social distancing should be implemented. Request that guests stay the appropriate six feet apart. The local public health department will probably offer guidance on this topic. Ensuring good sanitation for guests is also important. Giving favors such as hand sanitizer instead of more traditional bubbles or rice is prudent. Also, dancing and hugging will need to be limited at any post-ceremony parties. Finally, understand that vendors may be limited in terms of what they can source at this time. Particularly when it comes to flowers, some substitutions may have to be made.
Some couples would rather wait for their dream wedding rather than go through with an abbreviated one. For those people, it's a good idea to go over any paperwork they've already signed. Re-read the contracts. What are the details of postponements or refunds? Calling vendors is a great idea, regardless of what the contracts say. Many wedding-centered businesses are learning to be flexible. It's a good idea to be friendly and open to negotiation when making these calls. In general, most vendors will prefer to push dates back rather than cancel them entirely. It's in everyone's best interests to strike a deal in this situation.