Meetings and retreats are an increasingly important part of the business environment, both as crucial networking opportunities where employees can get to know one another, and as a future-focused morale-booster. Your meeting or retreat setting is essential to the success of your event, and you're looking for the best meeting space near Boston.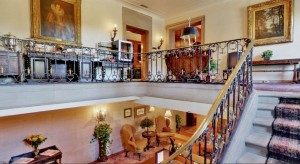 The MIT Endicott House and its historic 25 acre estate is worth a closer look. Times have changed since 1931 when the Endicott family bought former the Weld estate, built and furnished the house and planted the famous rock garden. The family bequeathed the property to MIT after Wendell Endicott's death in 1954. Since then, it has welcomed guests and groups from all over New England and around the world. While the property still retains its old-school refinement, we've made some updates over the years in order to accommodate current trends in guest requirements.
Beautiful Surroundings
Styles and trends may come and go as quickly as ever before, but some things never change, like the effect of a well- landscaped natural setting, and the welcoming ambiance of a meticulously decorated old mansion. The French Manor-style house itself still contains many of the original Flemish tapestries, oriental rugs, Italian hand-painted ceilings, and rare paintings that belonged to the Endicott family.
Current trends in facility bookings show a movement away from a standard hotel or conference center for groups of a medium to small head count; and we're well-positioned to meet that demand. Your attendees will feel transported, and better yet, focused on your agenda for the gathering.
Healthy Gourmet Food
Dietary preferences and needs are more of a concern than they have ever been in the past, and the trends in 2018 are moving steadily toward healthy foods, like fruit, salads, heart-healthy nuts and grains and low-sugar yogurt. Wider choice in dining options is also of growing importance.
Our chefs and kitchen staff have you covered. We offer an incredible array of gourmet cuisines, vegetarian options and creative refreshments. Our offerings are enhanced when, as seasonally available, we are able to include fresh produce grown in our own greenhouse, or honey procured from the MIT Beekeeping Club living lab here on property.
Flexible Budgets and Space Availability
Cost and capacity are always on the list of questions we answer, and one of the things that makes the MIT Endicott House among the best meeting space near Boston is our booking flexibility.  A robust choice of packages are available, or we can customize any visit. Whether you are looking for a day-long meeting or a weeklong retreat, our meeting planners are ready to deliver an experience you'll want to repeat again and again.
We've noticed also that groups are moving to shorter lead times in their booking arrangements. We know that business happens fast these days, and short notice bookings are becoming the norm. No problem- we'll do whatever we can to accommodate you.
Audio / Visual / Digital Technologies
Now more than ever multimedia presentations are playing a key role in making your meeting agenda successful. Fast internet access is expected, as well as electrical feeds and large-scale projection ability. The MIT Endicott House's A/V capabilities include an LCD projector, wireless internet access throughout the property and on-site technicians to immediately assist with your presentation needs, among other capabilities. Call us to discuss your tech needs and we'll make sure it works perfectly.
Recreational Activities
Get away from the intensity of the office, lab or classroom, and into a fun atmosphere of play and rest. Even meetings with the most important purposes can't help but take part in the recreational opportunities at the Endicott House. Corporations and other organizations are paying attention to expert advice to incorporate down time in their meetings and we expect that to increase in the coming years.
From a cooking competition guided by one of our chefs or a friendly challenge on the obstacle course, to a relaxing stroll through our beautiful greenhouse and grounds, we are ready for this trend as well. If a night inside the city is an allure for your group, only 12 miles away, the MIT Endicott House offers, with qualifying packages, complimentary Uber rides to the nearby destination of conferees' choice!
When you look for the best meeting space in Boston and the surrounding area, we gladly extend an invitation to you: look at our special combination of old-world charm and new world innovation. We have always majored in the timeless elements of a great retreat or conference- a personal touch, positive interaction, and a friendly welcome to all our guests!
To learn more, contact one of our meeting experts for a complimentary lunch and tour.