3 Simple Spring Garden Recipes
by MIT Endicott House
As the song lyrics state, "Welcome Sweet Springtime. We greet thee in song…" Springtime offers an abundance of vibrant choices that make even the most discerning palates sing out joyously.
When it comes to garden recipes, focus attention on taste, texture, color, ingredients and prep time that encourages al fresco dining and formal dinners.

Recipes Simple and Easy
As spring gardens begin to pour forth abundantly, it's important to know what's available. Don't be afraid to venture away from the predictable to introduce new garden ingredients into an interchangeable menu.
You can grow your own or haunt your local green grocer for the freshest spring fruits and vegetables.
For example, in New England and Mid Atlantic states, fiddlehead fern is available from late in April to early June. These are quite edible and a great substitute for asparagus.
Serve as a side dish with a lemon butter sauce and it is a perfect accompaniment to fish, pork. steak and lamb.
Fiddlehead fern tips should be cooked until tender. For use in a salad, blanch tips or rinse for ten minutes in cold water.
Use them as a base in a salad topped with thinly sliced red onion, tomato slices. fresh, sweet green pepper rings and hard cooked eggs rough chopped halved. Serve with your favorite vinaigrette dressing.
"Ramping" Up a Menu
Another spring garden recipe uses ramp, a type of North American wild onion that is part of the leek family and has become quite trendy.
Like Fiddlehead fern, it is available from April until June.
Ramp has a onion/garlic flavor. Just like scallions, ramp green tops are most tender while the stronger onion/garlic flavor is in ramp bulb.
If your recipes calls for mushrooms, rice or blue cheese, use ramps in a mushroom and ramp risotto or a Radicchio, Romaine and pickled radish salad with small cubes of blue cheese, ramp greens and bulbs julienned. Choose aioli dressing with a lemon or lime nuance.
A Spring Garden Dinner
When you shop for spring garden bounties, you'll want a formal dinner that projects a springtime theme.
Instead of a pre-entre salad, consider beginning a formal dinner menu with soup. The soup you choose to make should balance with the type of entre you plan to serve. Prepare a lighter soup for heavier entrees with sides.
Vegetable broths are quick and easy to make and are sold ready made. Choose vegetable broth garnished with thinly sliced radishes, fresh coriander leaves and julienned lemon zest.
Vichyssoise, a creamy potato and leek soup infused with brandy can be served cold or hot.
If your soup is the entre, add a variety of garden vegetables, laced with rice or noodles to create a satisfying meal.
Gazpacho is a medley of tomatoes, zucchini, celery, onions, garlic and sweet peppers. Gazpacho is quite filling when accompanied by crusty garlic butter Portuguese rolls garnished with chopped chives.
Springtime is Dessert Time
The finishing touch to a springtime meal is dessert that lives in memory. Here's a showstopper dessert recipe that takes less than a half hour to assemble.
Ingredients:
3 cups granulated sugar

1 cup rough chopped pecans

1/2 cup Irish butter

1/2 cup of heavy cream

1 1/2 cups each: fresh strawberries, blueberries, raspberries

1 tablespoon lemon zest
Instructions:
Place berries in a bowl and fold in one cup of sugar and lemon zest. Refrigerate until well chilled.
In a medium saucepan, add butter and 2 cups of sugar over medium high heat. Stir constantly until butter turns a caramel color. The pan will be very hot. So be careful.
Remove the pan from the heat. Carefully fold in heavy cream and pecans. Line a heat proof, buttered bowl with plastic wrap, overlapping ends about 1 inch.
Place the mixture in a bowl. Cover with plastic wrap and refrigerate until mixture hardens. Remove plastic wrap cover. Using the overlapping ends of plastic wrap, turn the hardened mixture onto a flat surface with a serving dish under it. Invert until the hardened mixture is free standing on the plate.
Remove remaining plastic wrap. Fill with berries. Garnish with mint sprigs.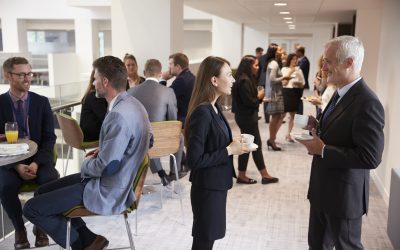 Hosting a multi-day conference can offer a wealth of benefits that can ultimately lead to a more successful and memorable event.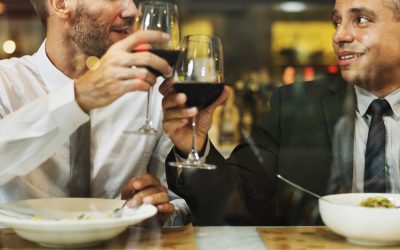 Organizing a work dinner that is fun for all the attendees while remaining appropriate can be like walking a tightrope.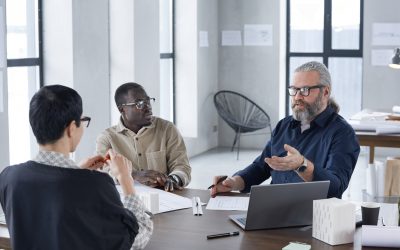 It seems like virtual meetings are assumed to be the default now. Have in-person meetings lost their value?