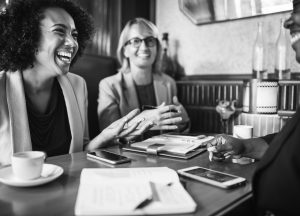 Holding a retreat event for your company or organization can be a great way to build cohesion and foster a strong group dynamic. This kind of team building can go a long way toward strengthening the spirit of camaraderie within your group and can also be a way for members to build some lasting memories. Hosting an off-site meeting is a great way to switch things up and provide a new perspective for the members of your company or organization. These are factors that event planners are well aware of, but there are some specific steps that can be taken in order to make your organization's off-site meeting a big success.
It Is Important To Keep The Group On Task
Any good retreat style event is going to involve some spirited conversations that touch on a number of different topics and this can prove to be a valuable aspect of the overall goal of building new perspectives and helping a group come together. At the same time, an event planner who is moderating their event has to be aware of the importance of keeping the participants on task. Staying true to the agenda that has been set for an event is critical in order to ensure that every session or team building exercise is able to be fit into the allotted time. 
Encourage Participants To Leave Their Comfort Zone
Within every company or organizational setting, people within the team or group will always tend to have specific colleagues that they have their closest bonds with, but a good off-site meeting is an outstanding opportunity for people to broaden their horizons. The creation of valuable new connections with people within a group should be one of the major goals of any kind of team building centric event. As an event planner, you should aspire to incorporate some exercises into the schedule that will help push participants out of their usual comfort zones so that they can interact with those that they usually do not.
Make Sure There Is Time For Participants To Ask Questions
It is a valuable element of a group event to build in some time for attendees to ask questions and get answers. It is always a good idea to consider building in a Q&A portion scheduled into the structure of the event.
Selecting The Right Venue
Choosing the right venue to host these kinds of events can often be one of the most critical factors that these planners must take into consideration. Hosting an event like this in a small to medium sized venue can be a great solution to venue selection. The location of the venue can also be quite important. While the big conference venues in larger city areas might have some advantages for a large event, when holding a smaller, more intimate event, there is a great deal of benefit that can be found in choosing a venue in a smaller municipality that has a more aesthetically pleasing atmosphere to it.
MIT's Endicott House is a retreat center that provides an ideal setting for small and medium-sized events for businesses, academic groups, student groups, associations or any other kind of organization that is looking to host a retreat event in a setting that will foster an enjoyable, relaxed and productive setting. The facility is located in the Massachusetts town of Dedham and consists of a mansion house that is situated on 25 acres of landscaped property. This facility has a unique and upscale feel to it that provides an alternative to conference centers in bigger cities such as Boston, but it also has a price point that is competitive with these types of venues.