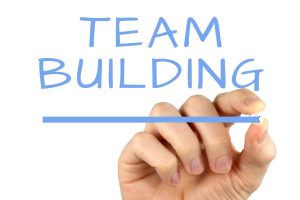 You may have plenty of people in your organization that are, shall we say, a bit jaded about the idea of company retreats. Rightly so if they have suffered through poorly planned, purposeless or just plain cheesy events that didn't live up to their potential.
Let this motivate you to plan your next team building getaway as a completely different animal. Make it impossible to complain about by starting with a solid foundation of careful planning and thoughtful execution. The first step is to understand WHY your people need this gathering.
Do you really need a team building retreat?
Consider this as a perfectly honest question. You should be able to answer anyone who asks, especially the bean counters who need justification for the expense. Possible ideas:
People in your organization need to communicate better. Departmental silos can be detrimental if fast and efficient communication is your goal. Have misunderstandings cost your company money?
New hires who need a plunge into your corporate culture beyond the HR manual. You can save a lot of time and aggravation by including some onboarding aspects to a team building retreat.
Morale low after cutbacks? Sometimes a weekend of evaluation and soul-searching is needed to get you all back on the horse and moving forward. Plus you are probably rearranging personnel to try to do more with less, and need some bonding time as well as planning time.
Mergers are almost always challenging. Build new teams better with a break away from the office.
Creativity and innovation may start with an individual, but it takes a team to do something with it. And it has been proven repeatedly that some of the best innovations have originated in groups where collective experience and expertise can sharpen the fuzziest great idea.
Many groups have an annual retreat / team building time to refocus, get new training, solve conflict and more.
Even if things are going relatively well, you can ALWAYS improve. Shore up weaknesses and build on strengths. A retreat is a much better arena to talk about redistributing responsibilities than in the everyday flow.
Use a retreat as preparation for a future big event, or circumstance that you know will create a certain amount of unrest or stress. Even if there's no changing it, having the chance to interact and ask questions is far better than a terse memo informing everyone of the change.
Got remote staff? A regular retreat can do wonders for communication that is usually done by text, chat or email. It's a lot easier to trust each other when you can see the nonverbal cues and tones of voice.
Speaking of trust, the more there is of that, the better for any organization. Nothing kills productivity like suspicion, revenge or lack of respect.
Many companies claim that their most important resource is their people. If so, do they show it by investing in them? Sometimes a team-building retreat can be mainly about showing some basic decency in honoring jobs well done.
While these are some common reasons for spending the money on a retreat, it's not by any means an exhaustive list. Having a rock solid rationale for a getaway that can be defended as good for people and the company will keep complaints to a minimum. And it will keep your planning on target as a focal point for everything on the schedule- even the unplanned, spontaneous interactions in the unscheduled spaces.
Planning a Team Building Retreat
Now that you've got your purpose firmly in hand, what principles can you rely on for making your time a success?
Over-communicate. Create buzz with videos, emails, or other group-wide information sharing. You might even create a bit of suspense if that helps your purpose, by communicating cryptic clues or riddles that will be solved at some point during the weekend. Certainly over-communicate details like location, time, transportation, and a sketch of your agenda (don't include all the details, because you need the freedom to change things if needed). Start the flow of information well in advance of the date.
Consider a task force to plan the agenda. It will take longer, for sure, but knowing the end product has been a cooperative project can increase buy-in and engagement. Asking your people what they don't want in a retreat can be a great way to surface concerns in a non-threatening way.
Think through making the retreat comfortable, but not too comfortable. There are plenty of examples when giving people a push has big results personally or interpersonally. How will you create a mix of opportunities for both authentic play and real challenge?
Teachers know about something called differentiated instruction. It's a principle arising from a value of making education accessible to all learning styles in ways that the learner respond to best, as opposed to a one-size-fits-all approach. How will your agenda accommodate the different styles of understanding in your group? Infuse your schedule with variety and choice when appropriate.
Fight dullness by including novelty. One example is using mealtime to introduce new sensory experiences to your group in an interactive setting. Even if someone doesn't appreciate sampling exotic food or drinks, you've learned that about them and they've had a chance to try something new. Create a photo contest and post the entries on the company's social media feeds. Or record some of the more fun events to post (make your competitors jealous!).
A guest speaker or teacher can also shake up the routine. It doesn't even have to be particularly germane to issues on the agenda. Bring in someone to teach self-defense, or pastry baking or the history of the space program. Better yet, invite all three to give everyone a choice!
Budgeting for your Team Building Retreat
Your venue sets the tone for your retreat as much as anything else you decide. What is a successful bonding time worth to your company? What return on investment will you see? It really can be difficult to balance the bottom line with treating employees well. So take your time thinking it through. What will it do for morale if your group finds itself in a low-budget retreat center? Spend a bit more and you might see extensive dividends of goodwill and better cooperation.
We suggest that single occupancy rooms are a major upgrade for any retreat. It gives the less social among you a place to escape, relax and refresh. It gives everyone a chance to rest in a room where they don't have to be "on" for their co-workers or team leader.
What to include in your budget:
Costs for food and lodging vary widely, you'll have to do some legwork to find out base charges for venues you are considering.
Most facilities don't offer package deals; a la carte (separate charges for lodging, food, audio-visual equipment, etc.) or add-on pricing is more typical. Here at the Endicott House we can supply a package price which means no surprises later when the total bill comes due, and allows you to more accurately plan your budget ahead of time.
To get you started, here are some budget items you'll do well to include. There may be other expenses unique your situation, of course:
Facility rental (guest and meeting rooms plus A/V equipment)
Food and beverage, including break time refreshments or special meals
Travel for attendees (flights, taxi to/from airport, group transport)
Supplies or rentals for team building activities, such as the obstacle course adjacent to Endicott House [LINK]
Office supplies like nametags, pens, easel pads, folders
Fees, honoraria, travel for guest presenters, entertainment, etc.
Special outings tickets and transportation
Awards for employees
Decorations and signage
Videography or photography
Add a 5% cushion for unexpected expenses, because, you never know! And if you don't use the extra, congratulations- your retreat came in under budget!
Activities It has become extremely popular to gamify team building, probably because it works so well. Putting your people in situations in which they practice trusting each other in a low-stakes environment leads to better cooperation on the job. It has often been said that playing a game or competing with or against another person is a rapid and positive way to really get to know someone. Consequently there are hundreds of tested activities that you may want to try. Choose based on your objectives for team building. Are they brand new to each other? Acquainted but not close? A tight knit group in search of a higher level of teamwork? There are games suited to any objective.
MIT's Endicott House has seen its share of team building retreats. In fact we love them! We can't wait to help you plan your next off-site event that grows your team and enhances your workplace. Contact our staff to start a conversation about what you need for your next company retreat.