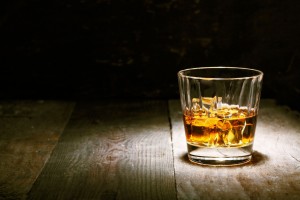 The Sixth Annual Whiskey Dinner delighted a gathering of approximately 80 guests at the MIT Endicott House last month. The breathtaking property hosts a wide variety of events throughout the year, with a special focus on meetings, fine dining and quality hospitality. Donated to the Massachusetts Institute of Technology by the Endicott Family in 1954, the Endicott House has remained under MIT's ownership and operation to expertly execute corporate and educational events for over 60 years.
Participants in all of the MIT Endicott House's special events are not only treated to an unforgettable culinary affair, but also may envelope themselves in the historical splendor of the home, built for grandly entertaining in the early 1900s. This year's whiskey dinner was no exception.
The agenda was simple: whiskey tasting, fine dining and friendly discussion. It began with a reception on the Terrace overlooking the expansive grounds, featuring exclusive whiskeys from around the globe. The exotic varieties from India, Scotland, France, Taiwan, Australia and the United States were offered throughout the event for attendees to sample. The reception was followed by dinner served in what was the Endicott family's formal living room.
The first course was a delicious stuffed pepper with side salad. Guests chose from steak, lamb or tuna for the main course, followed by melt-in-your-mouth chocolate bread pudding for dessert. The food was prepared to perfection by Endicott House's own Executive Chef, Edward Cerrato, and served graciously by the expert dining staff.
The elegant but relaxed ambiance in the living room was made perfect by the comfortable seating and good conversation at each of the tables. European marble fireplaces and hand-painted ceilings by craftsmen from Italy offer an authentic and enjoyable charm like no other nearby. The service was excellent, making for an effortless and extremely memorable repast.
A final tasting was held on the Terrace after dinner, along with a fun trivia competition. Following that, each bottle of whiskey featured during the evening was set out on a table in the gun room for guests to continue enjoying their favorites.
Hors d'oeuvres of imported cheese and crackers, salmon, roast beef and bruschetta were served with each round of tasting. Knowledgeable presenters attended the collection of whiskeys, answering questions and talking about the origins and history of each bottle.
The easy mood remained in effect throughout the remainder of our time as guests continued to enjoy the fine whiskeys and good company in the gun room.
With accommodations located conveniently in the Mansion and the adjacent Brooks Conference Center, there was ample room for guests to continue their evening on-property. A welcoming breakfast was served the following morning for the overnight guests to complete their stay.
The MIT Endicott House offers quality service for corporate and private events throughout the year.