When you're organizing your next meeting or event, you need to determine the best way to meet the objectives of the meeting and delivering the message with an impact. One of the best ways to create fresh perspective is to stay updated on top meeting trends and hold the meeting off-site, away from the hustle and bustle of the normal office.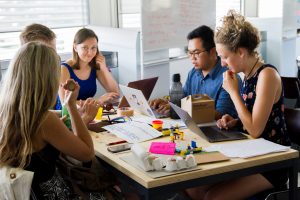 The venue is key to creating an environment where creativity can flow and attendees can freely collaborate with each other to achieve the objectives of the meeting.
Why should you hold your next meeting at an off-site location? Off-site meetings will enhance training, strategic decisions, promote brainstorming and create drastically different solutions.
Sometimes, you have to step away from the environment to get a clear view of what is going on and create a vision for the future.
Productive and innovative Attendees
When you hold meetings off-site, people are more engaged and alert to their new surroundings, which results in more engagement.
When people are more alert and engaged, they will also be productive. With a change of scenery unlike any conference room or hotel ballroom, employees will be invigorated, and the meeting will be more productive and substantial.
Are you an event or meeting planner looking for Boston's smartest destination? Be our guest for a complimentary lunch and estate tour.
Change The Environment and Dynamics To Change Perspective
Meetings often have roadblocks in terms of dynamics and problem solving. A different environment will stimulate creativity, change perspective, and encourage creative solutions that would not have been considered if the meeting was on-site.
Also, you can break up office cliques and routine by changing the environment. By moving your meeting to an off-site location, you will change the dynamic and lift some of these barriers that stifle creativity.
Since employees will not be sitting in their usual places and engaging in routine interactions, employees will inevitably break out of their daily routines. Conversations will be different, and employees will interact as a group instead of remaining in their usual cliques, which will create meaningful ideas and solutions.
Make an Impact With The Message
As seen in top meeting trends, major corporations are increasingly taking their most important meetings off-site to create a memorable experience that drives home the underlying theme of the event.
The ideal venue should help facilitate those objectives by providing facilities to think, grow, and network. An unexpected or unusual venue will go a long way toward making an impact that will make a lasting positive impression on all attendees. As long as the venue meets logistical and technical requirements, the sky is the limit.
Off-Site Meetings Encourage Personalized Communication
While videoconferencing and email make it easy to communicate with others worldwide, there is no substitute for being in the presence of colleagues and taking in all aspects of communication, including non-verbal cues such as hand gestures and facial expressions. A different setting will cause attendees to relax and open up in their communication, and lead to more engagement, productivity, and enjoyment.
Improve And Strengthen Workplace Relationships
Create a sense of camaraderie with some healthy competition at your next off-site meeting. Team building exercises bring employees closer together by working together to achieve a goal and capitalizing on each other's strengths.
These exercises will allow team members to appreciate each other in a different light, and uncover new strengths, abilities and talents that would not have emerged in routine meetings and interactions.
Promote Interactive Learning And Social Networking
Keep the event's objectives in mind, but be sure to make room for some fun to make sure attendees are refreshed and engaged. Fun elements such as scavenger hunts or interactive games tailored to your theme can help colleagues naturally grow closer through camaraderie and have higher levels of teamwork.
According to top meeting trends, activities that are themed or have an element of competition help employees break the ice with each other and create better relationships.
Are you ready to organize an off-site meeting that no one will ever forget? Follow these simple tips when planning your next off-site meeting. If you are looking for a venue that is sophisticated yet contemporary, look no further than the House.
The Endicott House is a mansion built in 1934 in the style of a French chateau surrounded by 25 acres of magnificent gardens and grounds. With a history enriched with old-world grandeur and enhanced by contemporary refinements, the Endicott House offers a unique site for meetings or executive education. Call us today at 657-253-5211, or fill out an online contact form and we will get in touch with you within 24 hours.