The grounds at MIT Endicott House are poised for the perfect outdoor event.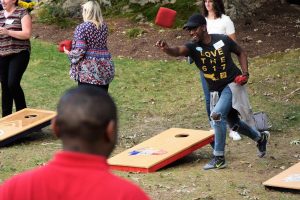 An outdoor venue is the perfect match of unique, fun and effective.  Unfortunately, outdoor settings are often underused for the conventional (read: boring) indoor venues.  If you catch yourself thinking these things, an outdoor venue is the perfect fit for your next event:
"I want FUN!"
Spending time outside begs for fun activities — from icebreakers and cornhole to ropes courses and garden parties. Nature and yard games can infuse fun into even the stuffiest corporate cultures. See if your venue could provide basic games or if you can bring your own.  
For fun finders and thrill seekers, MIT Endicott House offers a ropes course with help from Eagle Obstacles for all ages and skill levels. There are a variety of team building  exercises that aims to boost team spirit, rapport and problem-solving power — including  an obstacle course that can be scaled up or down for difficulty level, build a tent, and paintball target practice. These outdoor programs encourage your team to:
Take risks together

Build trust

Develop problem-solving skills

Work on communication

Feet the mutual satisfaction of success
Getting people's heart rates up and smiles on faces has proven effects to increase productivity, creativity and build relationships.
"I'm looking for something special."
Outdoor spaces are always special.  Sunshine and fresh air is a great combination for a memorable, special day. Outdoor spaces come in all shapes and sizes, from open fields to picnic shelters.  No matter the event, there is an outdoor space for you.
The MIT Endicott House was recently recognized by Unique Venues as one of the premier venues with outdoor space.  The MIT Endicott property offers multiple outdoor locations to host your company picnic, wedding ceremony, personal party or any other exciting event. Designed by Frederick Law Olmsted, the father of landscape architecture who is best known for Central park in New York, the grounds are a surprising and relaxing reminder of the beauty of nature. Both in manicured lawns and whimsical woodlands, the Endicott House grounds allow you to explore the charm of nature.
Outdoor events leave a lasting impression.  Can you remember what any hotel ballroom you've been in looks like?  Probably not. What about a childhood playday on your school yard? That's stuck in your mind a little more.  If you want your event to be remembered, an outdoor space could be the key. People love being outdoors, which makes memories more vivid and lasting.  Taking your event outside makes it more special than any conference center could be.
Activities, costs, food – There's a lot to consider when planning a meeting. Make sure you've got everything covered, download our free guide!
"I want to be inspired."
Taking an event outside makes you think outside of the box.  Literally. Beyond the four walls of a standard venue space, you and your guests will be more creative. Outdoor weddings inspire guests to experience the beauty of nature. Corporate picnics stimulate the imagination. Outdoor events reframe the way your guests think.
MIT Endicott House offers 25 acres of fascinating landscape architecture in picturesque Dedham, MA.  With rolling fields and meditative forests, there's no lack of inspiration here.
"I'm a flexible planner."
Being outsides exposes you to the beauty of nature, but also leaves you open to last-minute changes, thanks to inclement weather.  If you are able to work with a back-up plan, planning anxiety will be more manageable. Ask if your venue has appropriate space indoors in case of rain and if there will be staff available to help with the indoor transition.  You don't want to leave your guests sad and soggy.
"My event isn't tech heavy."
Power cords and microphones are easy to bring outside if needed, but be wary if you want computers or presentation screens.  Taking an event outside means that you leave behind the usual resources of indoor spaces like WiFi or projectors. If your event won't run smoothly without these things, consider bringing some or all of the event indoors.
If you agreed with all of the above, an outdoor event is perfect for you.  If you are unsure, contact your outdoor venue and ask if they can accommodate your concerns.  The best venues will give you all the comfort and service of an indoor venue with the unique fun of an outdoor event.  xx
At MIT Endicott House, we offer several indoor and outdoor packages perfect for any group or occasion.  Event planners are available to help you determine which event type is right for you and guide you through every step of planning your special day.  For more information, contact us at  617-253-5211 or fill out an online contact form and you will hear back from us within 24 hours!