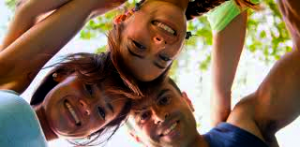 We've all done it; felt the sheer awkwardness of trying to explain a hilarious moment only to get blank stares in return. "Guess you had to be there…" If only they had been there, you'd all have a delicious inside joke to share. Once you've been part of a community, learned the ways, the language, what's important and what's not, and a few inside stories, it starts to feel like family. It becomes easy to be with these people and easy to share the same values. When your group is planning a leadership or team building student group retreat, you need a place that feels like coming home. Relaxing. Accepting. Comfortable. What you're looking for is the first fact about MIT's very own Endicott House conference and retreat center.
Fact #1- MIT Endicott House is a home owned by a college institution.
What's so great about that? First off, the cost is probably as affordable as any other facility you explore. And the value for your investment is surprisingly high. Below we'll discuss some of the unique features of the property, but know this: You'll get quite the bang for your buck at our house.
We are highly focused on leadership development and facilitating the best possible setting for any group with that in mind. That's why we have one of the area's only outdoor team-building courses. It's also why we welcome out-of-the-box ideas like hosting a group of architecture undergraduates who needed an outdoor space to complete their final project. Hear it from Professor Emeritus Jan Wampler:
"For many years, I assigned a project to my undergraduate students in architecture to design and build a structure to keep out the rain, cold and wind while sleeping in it overnight. Endicott was the perfect place to do this. They learned that design is important, but testing out in the elements was also important.Without the staff of Endicott and the beautiful setting I would not have been able to assign this creative project. Additionally, I have attended departmental conferences hosted by Endicott House, and found it to be the perfect place to get away from the urban setting of MIT. Endicott has always been a special place for conferences."
Fact #2- It's a safe space for a student group retreat.
Our staff has hosted diverse groups from all over the social map, from the Society of Women Engineers to the Graduate Student Leadership Council to LGBTQ groups- a full cross section of departments, student groups and clubs. We offer a healthy environment for organizations active in social justice causes and cultural education.
Contact us and you'll be surprised at what we can do to help you carve out a day, weekend or week away from the daily distractions faced on-campus.
We're well-experienced in fostering the development of student projects of any kind. The Beekeepers Club of MIT uses our grounds for their scientific approach to beekeeping. In return we get pollination and of course, there's honey! Our sustainable laundry machines are derived from experimentation by a student working on a project that is now a commercial success. MIT Endicott House's housekeeping team now uses the AquaFresco technology to recycle water used for washing linens.If your student group needs a place to run a test bed, experiment or hands-on project, consider the MIT Endicott House as.your next retreat venue.
Fact # 3 – We can tailor a perfect fit for your event.
Often, groups look for a place to get away for some crucial leadership development. The transience of the student community forces all of us to constantly invest in finding and building new leaders year after year. When focusing on training or challenging new leaders you won't find a better facility than Endicott.
Your school's Student Activities Office offers wonderful resources on how to plan a leadership retreat and we support any and all classroom and hands-on learning. Don't forget, we have 25 acres of gardens and open space, sports equipment for some friendly competition in volleyball, croquet, wiffle ball, horseshoes, and more.
We also have Eagle Obstacles located on our property- it's a full service obstacle course, rife with opportunities to build esprit de corps or test your new leaders.
Staying overnight? MIT Endicott house is a huge mansion, so expect to be impressed with our accommodations! Meeting rooms are fully equipped with the technology you need to present and participate in discussions. We can design a custom schedule and program with you, so don't worry about trying to fit into our plans.
Fact # 4 – Transportation to Endicott House is never a problem.
We can help provide fast and hassle-free transportation for your group to and from the city.. We're a mere 12 miles away from Boston, so just set a meeting spot and we'll pick you up!
Our location is about half an hour from Boston and Cambridge in the town of Dedham. Far enough away for a destination experience, but close enough not diminish productivity with too much travel time.
Fact # 5 – The MIT Endicott House is quite different than any other retreat center.
For those unfamiliar with our little corner of paradise, here are a few things you should know:
We have plenty of space to spread out, explore and take the time for real bonding. It's a relaxing and disarming natural setting that will bring out the best in your group. In keeping with the original owners' vision for the property, a blend of natural and formal landscapes surround the house. Maintained by our own horticulturists, greenhouse blooms give cheer year-round.
And we take the issue of sustainability seriously. Not only do we recycle our laundry water, we also have the technology to transform our kitchen waste into high quality compost that we use in our gardens. Pathosans, sanitized water cleaning solutions replaced harmful chemical cleaners in all our facilities. We're always looking for new ways to conserve, reuse and recycle and recently received the International Association of Conference Center's Green Star, for environmental practices, award.
The property features nine meeting rooms and can easily host groups of up to 100. We also use the adjacent Brooks Center's auditorium for additional amphitheater seating. We're flexible; a group of 10 will feel right at home, as will a group of 50 or 100.
Overnight accommodations, a fitness room and free wi-fi will make your stay complete. Need to eat while you're here? We offer a variety of fantastic cuisines that often contain ingredients grown right here in our gardens. Bond while you enjoy a meal in a dedicated dining room, outside on the terrace or toasting s'mores at our fire pit.
All student group are welcome to take advantage of a unique opportunity to develop and grow in an unforgettable setting.