While event organizers have to make a load of crucial decisions when embarking on a new event, one of the most significant ones is choosing the best conference venue. Of course, this will involve a lot more than just picking the first available space; you must do careful research before you settle for a certain locale. To assist you with your future conference planning labors, here are ten factors that event professionals have to consider when selecting the right event venue.
Type of Event
This is the first thing that you shall take into account when searching for a venue. Events such as shareholder meetings, press conferences, board meetings, and other formal affairs need a different setting to more casual gatherings such as networking sessions and theme parties. Nevertheless, remember that certain aspects such as different lighting and décor may drastically influence the overall tone and feel of the space itself. Therefore, you may have to customize the event experience.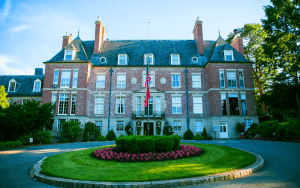 Location
The venue's location can significantly add to the event experience. However, before you commit, ensure that most of the attendees can easily access the spot. Think about how the participants will arrive there and back. Also, what are the transportation options for those opting not to drive? Do you plan to get shuttle services? Is there ample parking? Take some time to consider the attendees' logistics.
Expected Number of People
Although this seems obvious, the venue size and the number of participants have a considerable effect on an event's feel. If the venue is smaller than the expected number of attendees, people will be crowded and uncomfortable, thus making the whole experience a disaster. Too much extra space will make your event feel under attended or deserted. Hence have a solid estimate for the number of guests you are expecting to help you select a space that is just right.
Budget
Before you begin looking around for a space for your conference, create a list that details any venue-related expense. It has to include items such as equipment rentals, food and beverage costs, facility costs, office services, staffing needs, and more. Also, inquire from them what they might offer for free or at a discounted cost as part of the package.
Moreover, ensure that you obtain quotes from multiple venues as the first response is not necessarily the best deal you can get. After receiving various proposals, use them as leverage to get an even better deal from your preferred venue. Additionally, learn about any discounts or promotions the venues have before you begin negotiations.
Contact Us for Customized Information
We are happy to personally address any of your questions!
Services & Amenities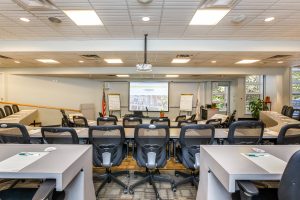 Do they have chairs, tables, and linens that you can use?
If the venue has these, you will save a load of effort and money.Do they have a kitchen which can cater for your event?
Often, the venue will waive facility fees and charge only a down payment plus the cost of food for each guest. Venues that lack kitchen facilities often have partnerships with food providers that you are supposed to use. Check their food in advance as less than stellar food can leave a bad impression on your guests. Ultimately, choose a venue that offers good food or one that allows you to select your own food vendor.
Do they have AV capabilities?
Some locations have built-in audio-visual equipment that you can utilize, while others might need you to carry yours.
Are there setup/cleanup crews?
Finding a venue that provides a cleanup and setup crew is a reason for celebration. Most do not!
Décor
The way you choose to decorate is the best way to customize the venue space. This is how the event's theme is conveyed to your attendees and is a big part of the event's success. So, does the venue have someone on their staff that can facilitate this? If not, and you like the venue, look for a highly regarded professional that will help you achieve what you have in mind. Often, the venue staff has such contacts.
Layout
Despite the fact that you will find your venue in the initial stages of planning, you still need to have a rough feel of how the event is going to play out. This will include the activities you'll undertake, the amenities you will need, plus the needs of your team and the guests.
During the narrowing down process, obtain an illustrated floor plan of each venue, then visit your favorites and walk through them at least once. This reconnaissance will help you note the important things such as where the outlets are located, where the AV equipment is situated, and ease of movement during the event.
Acoustics
This refers to the way sound travels through the room. Thus you need to avoid a venue that has poor acoustics. A room that has a low ceiling will amplify the sound such that communication will not be effective. A warehouse-like venue shall result in reverberation (echoes).
Accessibility
This implies that everyone, including those with special needs, can access the building plus its amenities. Thus, you need to know who your attendees are so that you can make the appropriate choice of venue, or preparations for disabled people if the venue lacks their facilities.
Venue Policies
Ensure that you are well aware of each venue's terms and conditions before you finalize your venue selection. Most of these conditions are in regards to timing. Inquire about how much notice the venue's management requires before making a change to plans to avoid fines and penalties. Also, ask whether the venue's staff handles tasks such as receiving shipments, making setups, breakdowns, and more.
Finding the Perfect Conference Venue
If you are looking for the best conference venue in the greater Boston area, The MIT Endicott House is the perfect spot. This serene place is located in Dedham, Massachusetts, ten miles from downtown Boston and sits on 25 landscaped acres. This upscale venue offers top-of-the-line accommodations, friendly staff, and delicious catering, all at competitive rates. Their conference rooms can be reserved by the hour or by the day. However, other arrangements can be made for guests with more specific needs. For more information or to book an event, call us today at 617-253-5211 or fill out an online contact form and you will hear back from us within 24 hours!
Find out more about our guest rooms at the Endicott House