Christmas trees? Menorahs? Cookies? Punch? If you are planning a holiday party, your list of things to include could stretch miles.  MIT Endicott House is here to help you find what you really need.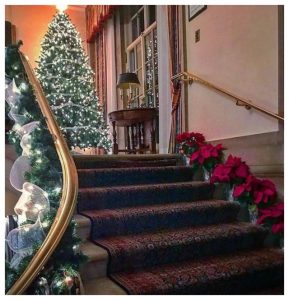 Venue
Before you begin thinking about food, entertainment and decor, find a spectacular venue for your holiday party. Make sure the party is a reward for your employees hard work by offering them something special.  And no, the conference room isn't special. No one wants to feel the urge to sneak away to finish up those end-of-year reports during a party.
Consider a venue that offers multiple benefits, such as catering or event planning help.  Keeping your needs in one place can cut down on costs and organizational burdens. Additionally, having one point of contact can help keep your planning efforts under control.
Boston's Smartest Destination
Download our brochure and learn how Endicott House can fulfill your unique needs.
A Great Date
No, we're not talking about some great arm candy. The perfect day for your event will allow for your guests to appreciate the event without cutting into the already packed holiday schedule.  
Don't be afraid to get creative with your date and time.  A Friday can be turned into a half day with the party in the evening. Sunday night might be a perfect time for your employees to be ready to party. Be conscious of your employees' personal lives as well. If your office takes off the week of Christmas, you may not want to schedule an event when everyone is already heading out of town. Similarly, the Saturday after Thanksgiving is convenient, but not quite in the spirit of the season yet.
For those in the Boston area, it is worth considering a snow plan.  Although plows and salted roads can get people far, a blizzard may keep your guests at home rather than at your excellent event.  Be prepared to work some holiday magic in case you need a Plan B.
Food
No holiday season is complete without a few extra pounds gained from cookies and punch.  Make sure to keep people happy with light snacks or a full-plated meal, depending on the formality and length of your event.  For a large company with a program of events, a served dinner will work best. A friendly gathering of a small business might fare well with hor d'oeuvres.  Or perhaps a buffett is more your speed? Whatever it is, be sure to schedule a tasting with your venue. And don't forget about common dietary restrictions, such as vegetarian, lactose intolerant or gluten free.  When in doubt, ask! Your employees and guests will be pleased to know their needs will be accommodated for.
Decorations
The most wonderful time of the year is not complete without decorations. It might be too much to put a tree in your cubicle, but a beautifully decorated venue will put your guests in the holiday spirit and earn you some great photos for your marketing department to use.  Look for a venue that will help with decorations or let you add your personal touch to their established decorations. Classic reds, whites, golds and blues are always a hit with guests and photographers. Check out your venue's Instagram or Flickr account for photos of past holiday seasons.
Activities
It can be a struggle to keep Ken from accounting away from the bar or Sue from marketing from repeating the same story over and over.  One way to keep your employees happy and entertained could be the addition of activities to your party. Something as simple as bingo or as complex as a mystery tour will give your guests something to do and encourage them to stay an extra ten minutes.  Activities are by no means necessary, but they will keep your guests excited about what is around the corner and remind them that they are here to celebrate friendships, not keep working after hours.
Favors
The season of giving is not complete without a small token for your guests.  Something as small as a coffee mug or a donation to charity in the name of the company will give your employees something to smile about on the car ride home and into the new year.  Checking out customizable goodies or a yummy treat for those in attendance will give an extra smile without a ton of financial dedication.
If you are looking for a great place to host your holiday party, be sure to explore the options of MIT Endicott House.  From dedicated event planners, historically beautiful grounds and excellent location, you can be assured that your holiday party will be one for the history books, or at least the Facebook page.  Contact MIT Endicott House today.