May 7, 2021 - May 8, 2021
9:00 am - 1:00 pm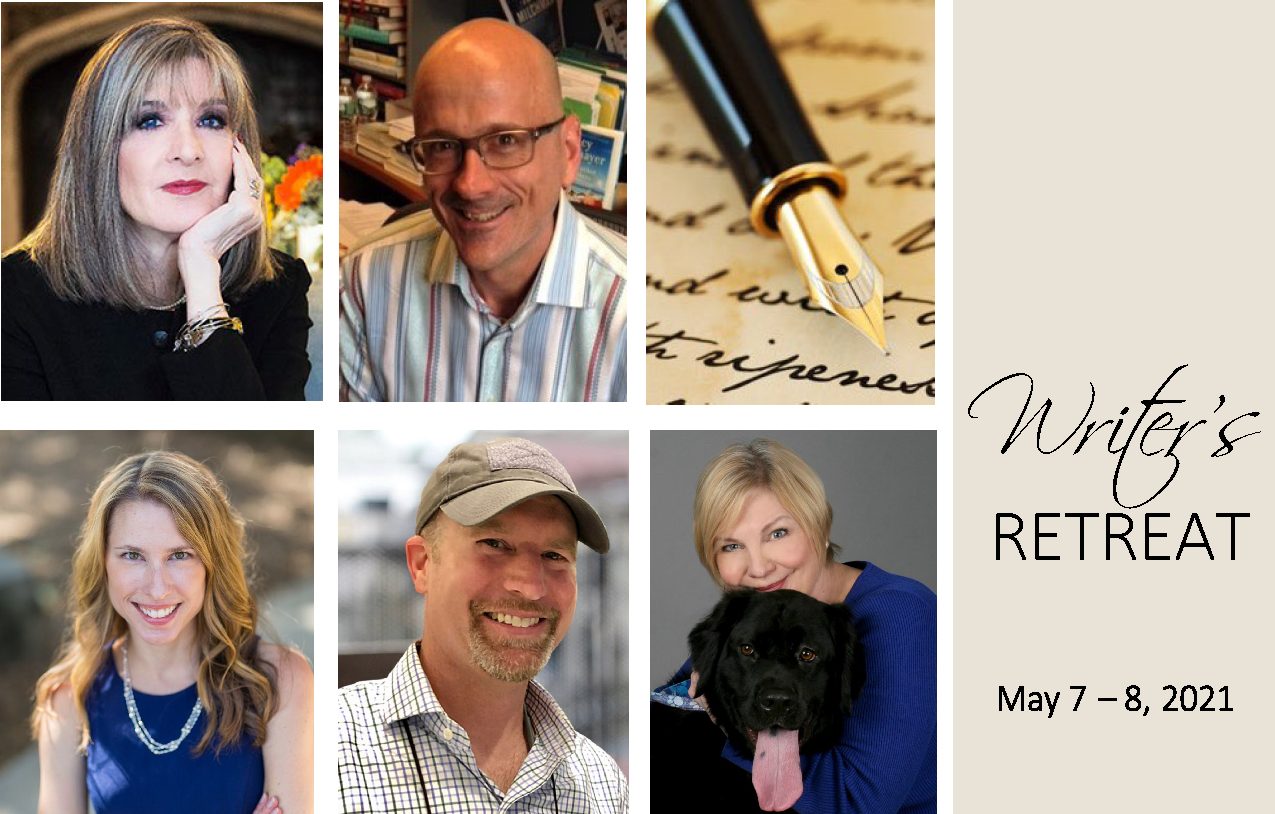 Note: When registering, please provide your address, as we will be mailing a gift box.
How's your book coming? Wish you had someone to talk to about it? Need help to meet your specific challenges and goals? We have the answer! Join us for the MIT Endicott House
Intensive Writer's Workshop.
MIT Endicott House has secured USA Today bestselling author and Emmy-winning investigative journalist Hank Phillippi Ryan, top notch literary agent and award-winning mystery author Paula Munier, Writer's Digest editor-at-large and bestselling novelist Jessica Strawser, publishing veteran and independent editor Dana Isaacson, and US Navy veteran and bestselling thriller author Brian Andrews, to hold a special writing workshop this spring.
Small. Focused. Personal. And designed to elevate your writing–with Hank, Paula, Dana, Jessica and Brian as your personal mentors.
This exclusive workshop with the members of the renowned Career Authors blog will focus on honing your opening pages, strengthening your plot, polishing your writing, and pitching your work. The Career Authors will help make your manuscript the best it can be–and get you informed and prepared for the publishing marketplace.
This program is traditionally held in the inspiring ambiance of MIT's old-world mansion, the Endicott House. Because of the pandemic, this year's event will be virtual, with components designed to enrich your experience while keeping you safe. We'll be hosting ice breakers, morning stretches, energy drink making and a literary trivia contest–and a cocktail hour with prizes (and special gifts mailed to your door in advance). You'll be connecting with other writers, sharing a wonderful experience, and changing your writing life.
One bit of bad news: Space is limited, and we expect the few remaining spaces to go quickly. So hurry!
Submit the first five pages of your book in advance and our panel will review them to discuss personally with you.
Zoom code, password and email to submit pages will be forwarded once registration is complete.
Day One:
8:30AM – 9:00 AM – Welcome
9:00AM – 10:00AM – Introductions: Tell us what you're writing!
10:00AM – 11:00AM – Hank Phillippi Ryan, USA Today bestselling author
The Basics: Everything you need to know to write a book
11:00AM – 12:00PM – Brian Andrews, Wall Street Journal and Amazon#1 bestselling author
World Building: Structure, Setting and Plot
12:00PM – 1:00PM – Lunch break–Or watch and participate in a cooking demonstration
1:00PM – 2:00PM – Jessica Strawser, bestselling author and former Writers Digest editor
Make Every Page Matter: Creating voice, character, themes, plot and more
2:00PM – 3:00PM Dana Isaacson, editor
Editing Secrets: A to Z
3:00PM – 4:00PM – Paula Munier, literary agent
Your Book Pitch: How to create and present it
4:00PM – 5:30PM – Practice your pitch with the Career Authors
5:30PM – 6:30PM – Virtual cocktail party
Day Two:
8:45AM – 9:00AM – Morning Stretch with MIT Fitness
9:00AM-10:30AM- Focus on your first pages
Discuss your first five pages with the Career Authors in special breakout rooms.
10:30AM – 11:00AM -Morning break (With a special gift for you from MIT Endicott House)
11:00AM-12:00PM- Career Authors panel
The World of Publishing: The inside story
12:00PM-1:00PM – Career Authors panel – Ask us anything!
Contributor Bios –
HANK PHILLIPPI RYAN is the USA Today bestselling author of 13 thrillers, winning the most prestigious awards in the genre: five Agathas, four Anthonys, and the coveted Mary Higgins Clark Award. She is also on-air investigative reporter for Boston's WHDH-TV, with 37 EMMYs for her groundbreaking journalism. Book reviewers call her "a master of suspense." Her thriller THE MURDER LIST(2019) won the Anthony Award for Best Novel of the Year. Hank's newest is THE FIRST TO LIE, which garnered a Publishers Weekly starred review and is now a nominee for the Mary Higgins Clark Award. She is a past president of National Sisters in Crime, and lives in Boston. Her upcoming novel is the chilling psychological standalone HER PERFECT LIFE.
JESSICA STRAWSER is editor-at-large at Writer's Digest, where she served as editorial director for nearly a decade and became known for her in-depth cover interviews with award-winning and bestselling authors. She is author of the book club favorites Almost Missed You, a Barnes & Noble Best New Fiction pick; Not That I Could Tell , a Book of the Month bestseller; Forget You Know Me, now in paperback; and her latest, A Million Reasons Why, releasing to starred reviews and raves from Jodi Picoult, Angie Kim, and other luminaries on March 23, 2021. A Career Authors contributing editor and popular speaker at writing conferences and book festivals nationwide, she recently completed a distinguished term as 2019 Writer- in-Residence for the Public Library of Cincinnati and Hamilton County.
PAULA MUNIER is a literary agent and USA Today bestselling author. As Senior Literary Agent and Content Strategist for Talcott Notch Literary, she specializes in commercial fiction and nonfiction. She's the author of the Mercy Carr series: A BORROWING OF BONES won the Dogwise Book of the Year Award and was nominated for the Mary Higgins Clark Award; BLIND SEARCH also won a DWAA award. THE HIDING PLACE, the latest in the series, debuts March 30, 2021. The mysteries feature former MP Mercy Carr and her bomb-sniffing Malinois Elvis, teamed with local game warden Troy Warden and his search-and-rescue Newfie-retriever to solve crimes in the Vermont wilderness. Paula's also written three popular books on writing, the bestselling PLOT PERFECT, THE WRITER'S GUIDE TO BEGINNINGS, and WRITING WITH QUIET HANDS. She lives in New England with her family, three rescue dogs, and a rescue cat.
BRIAN ANDREWS is a US Navy veteran, nuclear engineer, and former submarine officer. He graduated from Vanderbilt University with a degree in psychology, holds a Master's in business from Cornell, and is a Park Leadership Fellow. He is a principal contributor at Career Authors, a site dedicated to advancing the careers of aspiring and published writers. Brian co-authors the Wall Street Journal and #1 Amazon best-selling TIER ONE thriller series with Jeffrey Wilson. Starting 2021, he and Jeff have been tapped to write the W.E.B Griffin PRESIDENTIAL AGENT Series. Coming 2021 – SONS OF VALOR, a TIER ONE shared world series from Blackstone Publishing, DARK INTERCEPT, a faith-based, supernatural action series from Tyndale House, ROGUE ASSET, The Presidential Agent (Book #9) from Putnam. He is a husband, father, coffee lover, and occasional malcontent.
DANA ISAACSON is an editor and writer living in New York City. He was a senior editor at the Random House Publishing Group for thirteen years and has worked in the book publishing industry for nearly thirty in various capacities: as an abridger, literary agent, writer, online editor and acquisitions and content editor. Prior to Random House, he was an editor at Pocket Books, St. Martin's Press, Regan Books and the online publisher iUniverse. At Random House, he edited a wide variety of titles—from bestselling commercial fiction to literary biographies and historical narratives. He lives in New York.