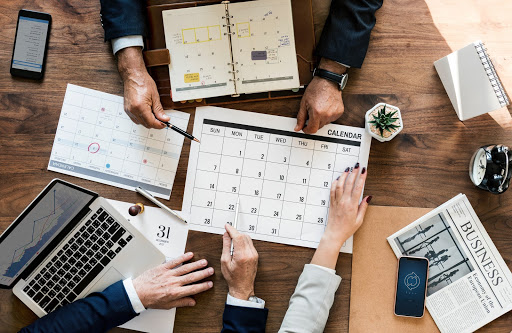 Event planning has a lot of moving parts, so having enough time is essential.  But when should you start to plan your event?
Answer? It's never too soon to start!
The time to plan events varies from a few weeks to years.  If your event is small, you can probably put it together in a month or two.  A good rule of thumb for any major event, from weddings to a company holiday party, is six months.  We get it. Six months sounds like a long time. Christmas parties aren't first thing on our mind in July, usually.  To help you start getting an idea of a timeline, we've made you a short schedule to help you out:
Six Months:
Contact and secure a venue.  This will guide everything else in your search.  If you have flexible dates, see if the venue has recommendations.  A good venue should offer you great atmosphere, staff, location and service.  If you are new to event planning, see if your venue has event planners who can help you.  MIT Endicott House offers in-house event planners who can help your event run smoothly from planning to cleanup.
Consider adding something extra to your event, such as a great team building activity or an outdoor element.  Now is the time to brainstorm what you'd love to see at an event.
Four Months:
If your event requires invitations, send them now.  It will give plenty of time for guests to clear their schedules and RSVP.  Even if you are hosting an event without invitations, let them know the date and location so they can make sure they are there.
Four months out is also the time to solidify your vendors.  Essential vendors include catering, beverage service, entertainment, photographers and transportation.  Your event planner can help you, or you can ask trusted resources for local services. Check with your venue if they have preferred or required vendors.  If you can keep services within your venue, such as catering or photography, it will simplify your to-do list.
Two Months:
Finalize your plans.  Deposits should be made to your vendors and venue.  Invitations should be returned so you can finalize counts on check-list items such as table settings and catering.  At this point, you should know the timeline of your event and who will be involved.
This is a great time to start focusing on smaller details, including decorations or agendas.  This is the real fun part of event planning. You can choose a theme for your event or a clever way to bring more fun into your event.
One Month:
Confirm with your vendors and venue that they are ready to be at your event.  Make sure they are aware of any changes you have made in the last few months and can accommodate you.  Be in contact with your vendor to ensure they can work with your decorations and agenda.
One Week:
Have all of your essentials in one place.  This includes contracts, decorations, agendas and any items you wish to have displayed at your event. Have a folder or bag that will keep all of these things organized.
Event Planning Day Of:
At this point, your event should be well planned and a time to enjoy all your hard work!  Be ready for any last minute adjustments. However, your event should be able to run itself.  If you are concerned about day-of emergencies, ask if your venue has a day-of coordinator that can assist you.
Planning an offsite event for your team? Find out more about how MIT's Endicott House can help with your Boston Corporate Events
If you are planning an event, consider hosting at MIT Endicott House, which is 12 miles from Boston.  We have everything you need from a beautiful venue and catering to fun activities and delicious food. Contact us today to see how we can help you plan the best event by calling 617-253-5211.
See what makes Endicott special. Be our guest for a complimentary lunch and estate tour. Colleagues welcome!